Bridge Loans: How To Use Them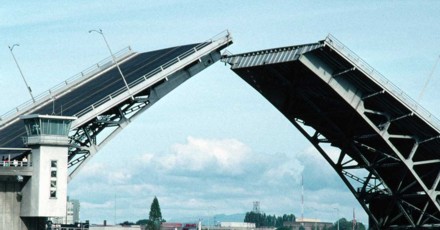 Bridge loans offer means for short-term financing while permanent financing is being sought or to carry a property while it is in the process of being sold. These loans are used most often in commercial real estate but can also be used in other businesses and residential home developers and investors. These loans usually have a relatively high interest rate when compared to other types of financing. The increase risk to the lender of these hard money loans warrants much higher interest rates and other additional costs.
The interest rate will be in line with interest rates for hard money loans, in the 6 to 12% range. Loan-to-value (LTV) will rarely go higher than 75% for commercial property or 80% for residential properties. 
---
Some Uses of Bridge Loans
To Purchase or Rehabilitate  
These loans are often to quickly close transactions on commercial property. If you need financing to purchase a property or need to rehabilitate a property, bridge funding can solve your problem. The loan will usually need to be repaid within a range from one to twelve months. This will give you the time to acquire permanent financing, refinance after rehabilitation or complete construction of the property.
The purchase and renovation phases of a commercial property are two of the most common uses of bridge loans. You may purchase or already own a rundown property in a location with great potential. The problem: you cannot get a conventional lender to give you a loan large enough to buy and rehabilitate the property. You can acquire bridge financing that will allow you to complete the purchase and renovate the property. Now you are able to acquire permanent financing on the renovated property, which is now a much more valuable as collateral for a loan.
To Make A Balloon Payment

Do you have a balloon note that is coming due and you have not been able to refinance the property? Short term bridge financing may be a viable way to pay off the balloon note, which will give you additional time to refinance or sell the property. Your use of short-term financing will prevent foreclosure and damage to your credit rating. If you need to payoff a tax lien or judgment or to remove other incumbencies from a property, this kind of temporary financing can help position your property for refinancing or resale.
---
Other Business Uses of Bridge Loans
There are many reasons where bridge funding can be utilized in business situations other than real estate:
These loans may be used to buy out a partner.
To sustain your company's operating expenses while going through the process of an initial public offering (IPO).
To sustain a financially distressed business while you are seeking a buyer or investor.  
These kinds of loans, which may essentially function as bridge loans are more often called short-term business loans or working capital loans.
---
Short-term Loans For Existing Businesses
Bridge financing is a temporary alternative financing tool that can be applied to many business situations successfully.
A businessperson is this situation needs a funding source that offers short-term business loans that can be repaid without placing undue stress on the daily cash flow of the business. These loans must be relatively easy to obtain in a relatively short period of time. The loan amount must also cover a wide range to accommodate the financial needs of various owners and their businesses. These loans can be obtained in amounts from $10,000 to $150,000. Loan amounts over $100,000 must be secured by collateral. See details on the short-term working capital for existing buinesses by clicking on this link.  
The term of both unsecured and secured loans is 6, 9, 12 and 24 months.
It is easy and convenient to apply for one of these working capital short-term loans. A one-page online application, last 6 months of business bank statements and possibly the last year of business income tax return may be required.
Apply here: Loan Application
There is a new line of credit that is available for $10,000 - $1 Million for a term of 2 years. This program is available to businesses that have existed for a minimum of 3 months and credit line must be secured by real estate. To learn more about this new working capital program: New BLOC Program Sign up for the free BM$ Success Newsletter and keep up with the latest funding opportunities for your business!


Learn more about hard money loans?

Learn more about Unsecured & Secured Bridge Loans?

Learn more about New Business Line of Credit (BLOC) Program

Click here to return to commercial loans.

Click to leave bridge loans and return to Business-Money-Source.com homepage.