Exciting New Loan Program! 




Unsecured Bank Term-Loan for $10,000 - $300,000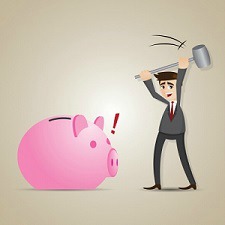 A term loan is one of the easiest and more affordable means to get business money.  Business Money Source now offers a new unsecured bank term loan especially for business owners in your particular situation.  This program is only available in the United States and it is available in all 50 states.  
You may have been in business for a short time and find that it is extremely difficult to obtain working capital to continue your business venture, or you may have an established business and just need additional working capitol.  The term loan is ideal for start-ups and businesses at any stage of operation, since the amount that can be borrowed is based on the credit rating of the borrower.
Now you can borrow $10,000 - $300,000 for a period of 3, 5, or 7 years!
---
How Do I Qualify For A Term Loan?
The Term-Loan program is available for individuals and business owners The amount of the loan that you may qualify for is based upon the following underwriting criteria:
· 2 year's income tax returns showing $50,000 or more per     year of taxable income. 

· 680 minimum credit score from all three credit bureaus.
The lender requires that the credit report comes from myfico.com
---
What Are Some Of The Benefits Of Using This Unsecured Bank Term Loan?
· Funding in 7-15 business days
· Fixed monthly payment
· Full liquidity immediately                                   
· No minimum length of time in business
· No upfront fees
Reasonable interest rates that range from 5.49% -14.99%(Dependent on strength of personal credit)
---
How Do I Apply For A Term-Loan?
· Submit one-page signed application
· Submit 2 year's of most recent income tax returns
· Submit credit report from myfico.com (no more than 30       days old)
Note:  Lender may request 3 months' bank statements from some applicants.  
---
How Do I Repay the Loan?
The loan will be repaid over the term of 3, 5, or 7 years in fixed monthly installments.  The fixed repayment method is must less stressful on you or your new business than the daily ACH payments often required by merchant cash advance and other working capital loans. You will have the lump sum of money to build or expand your business while repaying it in manageable amounts. 

Fill out the one page application and get the business money that you need to save, build or expand your business today! 
Act Now And Apply For Your Loan Today! 
Due to the dynamic nature of the business financial industry, the economic climate and the business objectives of the lenders, the bank term-loan described on this web page could change of be discontinued without notice.  Don't miss out! 

Click here to apply for a term-loan.
---
Get the free BMS report "Six Common Mistakes People Make When Applying For A Business Loan" when you subscribe to the Biz Money Now! below:
Return to Business-Money-Source homepage.
 Please "Like" the Business Money Source Facebook Fanpage.
 Please "Follow" Business Money Source on Twitter.