How To Build A Successful Business Website
As a business owner, you are well aware of many benefits of having your own website: branding, creditability, local and national exposure and hopefully increased sales. Whether you decide to tackle the project yourself or contract it out, there are several considerations of online presence of which you will need to be aware.
There are two types of visitors to every website, human visitors and search engines. You will have to satisfy the requirements of both, in order to be successful in the vast universe of 250 million websites!
The Intellectual Approach
The "intellectual" approach that some site developers take is to concentrate on working to satisfy the requirements of the big search engines, (Google, Yahoo, Bing and Ask). This approach takes them on a never-ending chase of the latest criteria for web page ranking by the search engines. As the search engines create more and more sophisticated ways to rank page content, the webmaster is destined to life on a treadmill of increasing speed; to try to keep up with ever-changing search engine optimization techniques.

---
The Site Build It! "Common Sense"
The Site Build It! "common sense" approach that we use and recommend is to work to satisfy the human eyeballs! In other words, give the humans visitors what they are looking for on your site. The logic is amazingly simple! If human visitors enjoy the visit to your site and return again and again, your traffic will build. As your traffic builds so will your ranking among the search engines.

The search engines will recognize the increase in traffic at your sight and realize that you are delivering great content to your visitors. Google, Yahoo and the other engines want to deliver websites with great content because their business depends on giving web searchers quality websites with great information.
You over deliver great content to your visitors and you will make them happy and they will return. You traffic will then grow which will make the search engines happy. Your site rankings will increase with the search engines, which makes you happy! Great content makes everyone happy!
---
What Is C-T-P-M?
The Site Build It! "common sense" approach is based upon a simple formula: C-T-P-M. "C" is for content of the valuable information desired by your visitors. The "T" represents traffic or the human eyeballs that view your site. The "P" is for pre-sell. Your content should "pre-sell" or prime your visitors so they are receptive to your offer to sell a product or service. The "M" stands for monetization. Monetization is how your website earns money.

This can be accomplished by many methods. Some common methods that you can use to monetize are: direct sales of a physical product, sales of an e-product such as a report or CD, offer of a service and affiliate sales (where you advertise and recommend another company's product in order to receive a commission for sales). There are many more ways to monetize your business and many companies combine several to create multiple income streams from one site.
Be sure to follow the C-T-P-M format in that order and you will have a successful website. Do not attempt to monetize before you have performed the first three steps.
---
Your Offline Business Needs A Website Too!
If your primary business is a brick and mortar business and you want an internet presence to compliment it, you will still need to build traffic. There seems to be a common notion among some business people that if they build a beautiful site, visitors will automatically rush to visit it. After a few months they are deeply disappointed when there is little or no traffic. You will need not only to build the site but build online traffic simultaneously.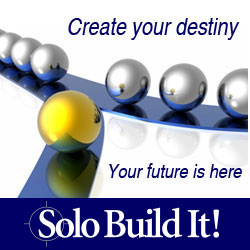 It doesn't matter whether you are doing business online or off line, one fact is consistent; people do business with someone they know and trust. Gaining your customer's trust can be even more important and more difficult to achieve online. You and your customer are not in the same physical space when doing business. Neither of you have the benefit of reading body language or hearing the tone and inflections of voice; important signals that humans use in face-to-face communications. Therefore you much develop a "voice" online and give enough information about yourself and your business to make your prospective customer comfortable. You must accomplish this rapport with your visitor by your site content and presentation. If you fail to do this, your visitor will click off your site without ever getting to your offer. You can have enough traffic to crash your web host's servers but if none of that traffic clicks through to your offers, you won't make any money!
You need a company that understands the C-T-P-M approach and one that will take you step by step through each phase of building your website. Whether you build your own site or hire someone, you will need someone to take you beyond the site build and through all the phases of building your business online.
---
Get the free report "Six Common Mistakes Made By People When Applying For A Business Loan" when you subscribe to the FREE BM$ Success Newsletter and keep up with the latest funding opportunities for your business!

Return to Build Web Pages.

Click here to leave Build A Successful Website and return to Business-Money-Source.com homepage.