How The Commercial Financing Process Works (Part 1)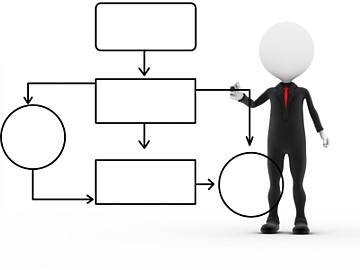 Many applicants who apply for commercial financing seem to underestimate the complexity of many of these transactions. They send a quick email and say "I need X amount of dollars to start my dream business" and follow-up with another email several days later asking, "Where is my money?" Hopefully, after reading this page and the next, you won't be one of those loan seekers! This page will lead you step-by-step through the lending process and give you tips on what you can do to increase your chances for success in obtaining the funding that you are seeking.
---
Step 1: Introduction
The first step is simple enough, either you have contacted Business Money Source via our website site, newsletter, email, telephone or some other method or Business Money Source contacted you via your advertisement. Either way, we are aware of each other's existence.

Once the initial contact is made, Business Money Source will request a 1 – 2 paragraph general description of your loan proposal, the amount, for what purpose and your location. This is NOT the Executive Summary. This is only preliminary information to see if your project is something that may be of interest to our lender/investor funding sources.
Business Money Source will acknowledge the receipt of your initial inquiry, usually by email or sometimes by telephone. You will be notified at that time whether or not your request fit within the parameters of at least one of our funding sources.
---
Step 2: Contact The Funding Source
Business Money Source will present your initial inquiry to one or more funding sources, (one at a time) to determine if there is any interest in your project. If not, we will notify you at this time that we cannot be of service to you at this time.

If one of our funding sources expresses preliminary interest in your financing proposal, Business Money Source will request from you an Initial Application, Executive Summary, Financial Procurement Agreement and the Authorization to Release Your Business Information to our lender/investors.
---
Step 3: Initial Examination By The Funding Source
The funding source will look for and expect the following information. Any missing or incorrect information will delay or may even cancel the funding process altogether. You have to look at it from the lender's/investor's point of view. They are putting up large sums of their money in your project, sometimes half way around the world! The must know as much as absolutely possible going into the deal.

In addition an Executive Summary (max. 6 pages) is required, which should include the 'core elements' of the project development for finance.
The Core Elements For The Executive Summary Include:
Detailed identification of the client. The client has to be a Corporation. If not, a special request and justification is required.
The capital share of distribution (identification of the shareholders), nature and description of the project, cost of the project, financial situation/equity in the project, commercial financing amount required, mode of repayment, collateral security offered (if any) and exit strategy (how the debt will be systematically paid off).
Principal(s) profile (main person/s – Owner, Partner, President, Director, CEO etc.), who is involved in the day-to-day operation of the project/development, written in about 10 to 15 lines - outlining qualification, experience, credit worthiness etc.
Also, if possible include projected balance sheet and cash flow forecast for at least 3 years.
And provide in the application form, all other information that are relevant to the project.
It will take about 7 - 10 days for the lender to analyze the information received from the client / introducer. (Maybe slightly longer with overseas clients)
If for any reason the lender does not wish to proceed further with the proposal, it will be made known to the client immediately.
On the other hand, if the lender wishes to go ahead with the initial presentation, they may prefer to have a direct conference call with you, the client. The lender may issue to the client/borrower, Letter of Intent (LOI) or Term Sheet (TS) outlining their terms and conditions for the proposed commercial financing. It's like pre-approval.
---
Click here to learn the cold hard fact of commercial loans, large project loans and international loans
Continue to Commercial Financing Process Part 2

Sign up for your free issue of the BMS$ Success Newsletter and keep abreast of your commercial financing options available for your business.


Return to Commercial Loans

Leave commercial financing process and return to Homepage

freedigitalphotos.net